UM FIO DE BABA ESCARLATE

Carlos Conceição
2020 / Portugal / Fiction / 59' – FRENCH PREMIERE
Synopsis
The peaceful life of a serial killer in Lisbon is shaken when an unusual incident suddenly turns him into a social media superstar.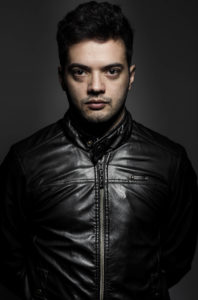 Biography
Carlos Conceição, born in Angola, majored in cinema at the ESTC in Lisbon, and in English Literature of Romanticism. His first short film, The Flesh (2010), was given the New Talent Award at Indie Lisboa in 2010, while Versailles (2013) competed at the prestigious Locarno Film Festival. Both Good Night Cinderella (2014) and Bad Bunny (2017) made their debut in competition at the Cannes Film Festival with great reactions from the public and critics. Bad Bunny went on to win several international awards and the Sophia for best Portuguese short film.
TECHNICAL SHEET

Script   Carlos Conceição

Cinematographer   Vasco Viana

Sound   Rafael Gonçalves Cardoso

Editing   António Gonçalves

Mix  Rafael Gonçalves Cardoso

Cast   Matthieu Charneau, Joana Ribeiro, João Arrais, Leonor Silveira, Teresa Madruga.

Production   MIRABILIS